Putin has a New Challenger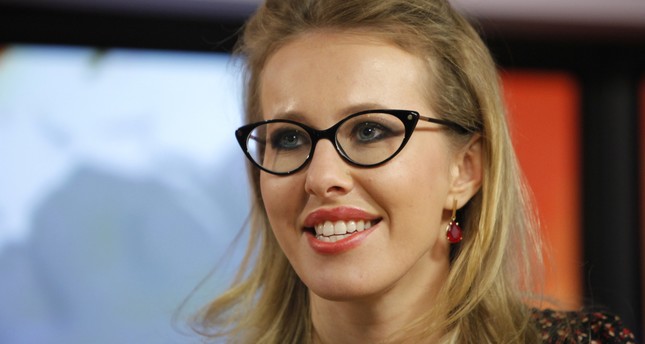 Russian socialite Ksenia Sobchak to stand in up-coming Russian Presidential Election in March, she will face-off with strongman Vladimir Putin.
Who is Ksenia Sobchak?
She is
35 years old,
the daughter of Anatoly Sobchak, the late mayor of St Petersburg,
co-author of the Constitution of the Russian Federation,
and of course KGB top-bass who recruited
both Vladimir Putin and Dmitry Medvedev into KGB' web.
Ksenia is from Kremlin aristocratic family. She won fame by presenting a popular dating reality show called
Dom-2 Denigrated
by some as a party girl, she also gained attention for once presenting another reality TV show from a bubble bath. Again in 2012 she raised eyebrows by joining opposition for the protests against Mr Putin.
Ms Sobchak conceded she was an unlikely candidate and said she supported opposition leader
Alexei Navalny
, who is barred from standing after
Navalny and his brother Oleg were
convicted
in December 2014 of embezzling 30 million rubles ($442,000 at the time) from two companies, including the Russian branch of French cosmetics giant Yves Rocher.
Mr Navalny is currently serving a 20-day prison sentence for his role in organising "unsanctioned" protests at President
Putin's birthday
.
Ksenia decided to take a punch in participating in
Russian P
residential

E

lection
on 18 March 2018
on his behalf. However he had warned her not to stand and some commentators now predict an opposition split.
The Kremlin welcomed her candidacy, by saying it was fully constitutional.
T

he anti-corruption blogger dismissed Ksenia Sobchak as a "Kremlin stooge', a liberal laughing stock" and an opposition "caricature", brought in to lend legitimacy to a sham vote. He scorned her as a showbiz celebrity, only seeking more social media "likes" and followers.
Russian Socialite Ksenia Sobchak Announces Bid for Russian Presidency in up-coming National Election on 18 March 2018
.
Ksenia made the announcement Wednesday on a special episode of her "
Sobchak Live
" show on the opposition-leaning Dozhd TV news channel. Ms Sobchak herself denies she is a spoiler, saying she will step down if Mr Navalny himself is allowed to run for president. That scenario looks highly improbable though.
So the socialite-turned-journalist has promised to be a "loudspeaker" for those still need improvement in Russia.

She would be the first woman candidate in 14 years, a point which her campaign video taken from a kitchen underscores. But Ms Sobchak also has the "Marmite" effect: she is as unpalatable to as many people as she attracts.

And crucially, it's not clear how far she'd actually go in criticising Vladimir Putin himself, although technically he is a close family since her childhood.
She said she wanted to be "a mouthpiece for those who cannot be candidates". "I am against revolution but I am a good middleman and

organizer

," Ms Sobchak wrote in a letter published on the website of Vedomosti business daily.
Russia's election campaign will officially starts around 7 December, when political parties are expected to hold congresses to nominate their candidates.
A Russian citizen not backed by a political party has the right to register as an independent presidential candidate provided he or she collects at least 300,000 signatures.