Zimbabwe Turns To The East
President Emmerson Mnangagwa greets Chinese Ambassador Mr Huang Ping.
China's growing investment and development in Africa, dubbed "The Next Empire" for its historic potential to reshape the continent and grow Chinese influence, is particularly in sub-Saharan Africa, where Zimbabwe and Namibia are. President Emmerson Mnangagwa welcoming Chinese Ambassador to Zimbabwe
Mr Huang Ping
while Chinese Special Envoy Mr Chen Xiaodong looks on. China has pledged to broaden its cooperation with Zimbabwe's new administration led by President
Emmerson Mnangagwa
to quicken economic development in the country, which is expected to improve people's livelihoods.
This was said by China's Assistant Foreign Affairs Minister Mr Chen Xiaodong – who was acting as a special envoy of the Chinese government – when he paid a courtesy call on President Mnangagwa at his Munhumutapa Offices.
Mr Chen also delivered a special invitation from Chinese President Xi Jinping to President Mnangagwa to visit the Asian country at a convenient time in the future."In our talk, President Mnangagwa and I agreed that going forward our two sides will continue to maintain high-level exchanges, deepen communication, enhance mutual political trust and carry our traditional friendship forward," he said.
"The second point is: we are going to enhance the development strategy alignment between our two countries to ensure our practical cooperation will go deeper and broader, so as to inject more impetus to economic development and the people of Zimbabwe's livelihood improvement."Thirdly, we will enhance solidarity and coordination in dealing with international affairs and jointly uphold the common interest of developing countries.
We both have confidence in the future development of our bilateral relations." Mr Chen said his visit was meant to show his country's support for Zimbabwe's new administration."My mission is to convey the message of Chinese President Xi Jinping to His Excellency President Mnangagwa to demonstrate China's support for the people and the new administration of Zimbabwe; to exchange views on deepening our traditional friendship and enhancing our cooperation in various fields," he said. Mr Chen said President Xi emphasised that Zimbabwe and China enjoyed strong bilateral relations.
"President
Xi Jinping
congratulates President Mnangagwa on assumption of office in his message," he said. "The President emphasises that China and Zimbabwe are good friends, good partners and good brothers who have understood and supported each other over the years, and our relations have withstood the test of time, as well as changes in international situations." Mr Chen said China believed that Zimbabweans had the capacity to manage their own internal affairs.
"China firmly supports Zimbabwe in pursuing a development path suited to its national conditions and believes that the Government and people of Zimbabwe have the wisdom and capability to manage their internal affairs well," he said.
"President Xi Jinping also extends his invitation to President Mnangagwa to visit China at a time convenient to both sides," Mr Chen said. He noted that President Mnangagwa had thanked President Xi for his congratulatory message on behalf of the Government and people of Zimbabwe, adding that Mr Chen was the first foreign official envoy visiting him after he took office.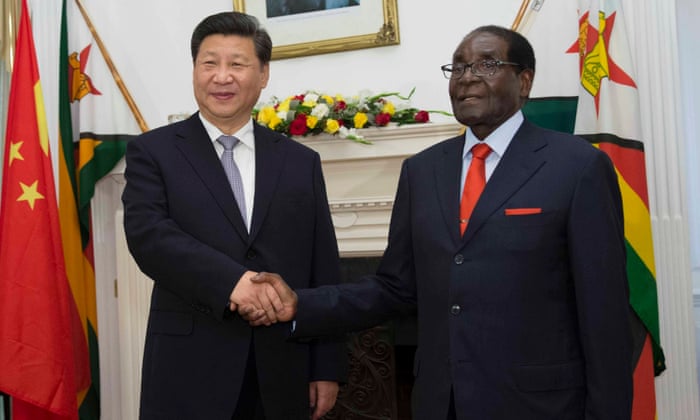 Chinese president Xi Jinping with president Robert Mugabe in Harare, Dec 2015.
"President Mnangagwa said the Government and people of Zimbabwe will not forget China's support of Zimbabwe over the years, and that the Government and people of Zimbabwe will not forget the precious support of China to Zimbabwe even in critical time like this moment while there is a need for country development. We fully appreciated the mutually beneficial and cooperation between the two sides," said Mr Chen. President Mnangagwa also emphasizes that the Zimbabwean government attaches high importance to the common bilateral ties and that China will become his first stop outside of Africa.
The Southern African state whose President
Robert Mugabe
was recently stripped of his power, has put more and more of its economy and natural resources under Chinese control. As a result, the Asian country has won near-exclusive dominance of everything from mineral rights to labour standards, as well as the apparent acquiescence of local politicians and security enhancement of improving the police and defence.
Some have views that African countries, of course, remains sovereign, but as China's economic hold tightens, the African nation's independence is becoming harder to distinguish. As the economic situation of Zimbabwe grew to unprecedented levels of uncertainty, a large part of its population turned to
online lotto
games in a bid to secure their future. While some people luck for playing lotto, most find some level of security in the consistent Chinese investments pouring into the country and creating more jobs.
China is the largest consumer of several resources which Zimbabwe has in abundance. China is ranked fourth in terms of the size of mining investment approved by the Zimbabwe Investment Authority (ZIA) in 2009, after British Virgin Islands (BVI), Mauritius, and South Africa.
The involvement of Chinese investors in Zimbabwe stems across all major sectors and is growing each year. Recently, the Chinese company Sino-Zimbabwe offered US$500 million to the Reserve Bank of Zimbabwe to purchase gold. This highlights the Chinese strategy of involvement, which is more targeted at controlling mineral resources than actual mining. There are strategic partnerships with local companies exist in copper, chrome and platinum mining. In 2009 Sino-Zimbabwe announced an $8 billion investment agreement with the government of Zimbabwe.
As part of indigenous decree for the local economy, large Chinese corporate have favored in acquiring key Zimbabwean industries. China's Sinosteel bought 92% of Zimbabwe's largest ferrochrome producer, Zimasco. Sino-Cement owns one of the country's largest cement factories, and China Sonangol has been awarded contracts in housing and mining.
Other Chinese technology giants ZTE and Huawei have also won contracts worth more than US$200-million from leading private telecoms operators in Zimbabwe to build mobile phone and broadband infrastructure. Last month China extended a US$53-million grant to NetOne, the loss-making state-owned mobile operator.
The Asian country even agreed to reschedule by three years a US$55-million debt owed by Zimbabwe's largest steel-maker. Apart from controlling a huge chunk of Zimbabwe's retail, mining and agriculture sectors, China also
invested
hundreds of millions of dollars into Zimbabwe's infrastructural projects, most notably a $144 million water system upgrade for the capital Harare and the addition of 300 megawatts to the 750MW Kariba hydropower station. The US$320 million loan extended by the Chinese government made the project a reality with the Zimbabwe Power Company weighing in with US$213 million borrowed from Development Finance Institutions.
According to Zimbabwe Investment Authority (ZIA) statistics published in the China Daily, the Asian country remained Zimbabwe's largest investor during the first five months of 2015, accounting for 74% of the total amount of investments – a trend that has remained steady in the following years. During a 2015 visit to Zimbabwe, Chinese President Xi Jinping signed multiple economic deals, including one for more than $1 billion of Chinese investment in Zimbabwe's largest thermal power plant.
That year China also cancelled $40 million of debt owed by Zimbabwe and in response, Zimbabwe made the Chinese currency, the
yuan
, legal tender in the country. With China bringing in over 30 million dollars per month into Zimbabwe, the Asian country has become the largest source of foreign currency in Zimbabwe and has modernized and strengthened the African country's agriculture, energy and tourism sectors